The Dead Livers history


16th April 1978 - first performance at Mitchell & Mitchell's beer and country music festival in East Brighton. Members include Brendan and Edward Mitchell, Tony Pizzi, Mike Schack, and Marty Atchison.
May 1978 - first hotel appearance at Hatters Castle South Yarra
June 1978 - first of many performances at Golden Age Hotel Beaufort. Richard O'Keefe replaces Tony Pizzi as drummer.

On stage at the Goldern Age Beaufort
November 11 1978 - congratulatory letter from Carlton & United Breweries on being finalists in 3UZ's country music battle of the bands
November 25th 1978 - performance at Yooralla Country Music Festival Royal Melbourne Showgrounds
New Years eve 1978 at Jung
April 1979 - John Berto and Peter Thorne join band. Brendan Mitchell later returns
Friday April 6th 1979 - Perform as "Delivery" (a short lived name change) at the Lady Bay Hotel Warrnambool
April 18 1979 "live" to air tape for 3PBS-FM at the Prince of Wales Hotel St Kilda, along with Gunslinger, Danny Robinson,One Armed Bandit, Homestead and others. Randy Broughton first plays pedal steel with band.

Randy Broughton on pedal steel at the Stockade Hotel Carlton
October 28 1979 - First 2TM Star Maker Quest won by Grand Junction from finalists Trica Axon, Cundle Town, Dead Livers, Sharon Fleming, Ray Griffiths, The Images, Lee Kernaghan, Tommy Miller and Sweet Feelin'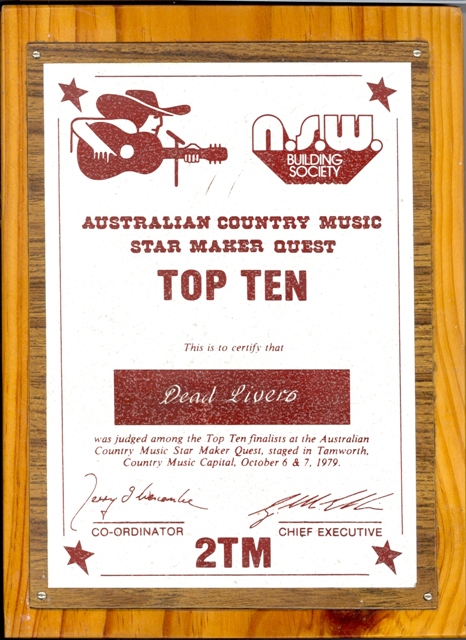 Plaque received as Starmaker finalist
Nov. 1979 - Single "Ballad of a Dead Liver"/"Grandpa" receives airplay on 3UZ, 2TM and nationally on Nick Erby's country music jamboree.
March 1980 - 9th Wandong country music festival
April 3 1980 - television appearance in Sydney on the John Singleton show

A photograph of the TV performance on the John Singleton show

July 25 1980 - support act for Leon Russell and the Amazing Rhythm Aces, Palais St. Kilda
October 1980 - Brendan exits band, Rodger Delfos and Bob Suffern join
Nov 2nd 1980 - Booked for Ned Kelly festival at Winton Vic. Festival a failure due to poor attendance, and band's performance cancelled
1980-1984 - a string of residencies include the Aberdeen Hotel North Fitzroy, the Renown Hotel, Fitzroy, the Esplanade Hotel St. Kilda, the Rising Sun Hotel Richmond, and the Sydenham Hotel Richmond.
Feb 1981 - record "I'd love to have a joint with Willie" which is played over the PA at Willie Nelson's concerts
20 Feb 1981 - perform at the Mt. Erica Hotel on the eve of Willie Nelson's concert in Melbourne. Willie Nelson's merchandising manager attends the performance. For photos from this event click here
26 May1981 - performed at Prince of Wales Hotel St Kilda for 3PBS FM. The show, organised by Peter Andrew and Roger Lloyd, featured Gene Bradley Fisk as well as the Dead Livers, and was recorded on tape for retrospective airplay
13th July 1981 - performed at Terang High School Hall for the Terang Football club
8th November 1981 - performed at Bullengarook Country Music Festival headlined by U.S. star Tom T. Hall. Others on the bill included Johnny Chester, Donna Fisk, the Wylie West Band, Nevada, Evelyn Country Band, The Hawks and Stoney Creek.
Dec. 1981/Jan. 1982 - first jaunt to Ronnie Wearmouth's "Star of the West" hotel in Port Fairy.
Jan. 1982 - appearances in Sydney (Lone Star Cafe), followed by Tamworth.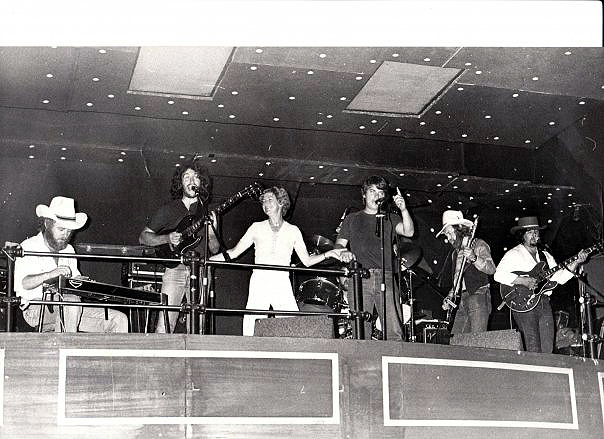 This photo was taken at the Lone Star Cafe Sydney
March 1982 - Wandong country music festival
Weekly times March 17 1982 - "One of the most popular bands at the 11th Wandong Country music festival and at Tamworth in January were the Dead Livers. They have been booked to appear at the Charley Pride concert in Penrith NSW on Easter Monday"
April 8 1982 - Albury NSW
April 12 1982 - Easter Monday Charley Pride concert Penrith NSW
April 12 1982 - Paddington Green Hotel Paddington NSW
June 1982 - Star of the West single released
October 1982 - tour of South Queensland during Commonwealth games
December 1982 - Dead Livers mentioned in Billboard magazine (USA) 25/12/1982
Jan. 1983 - Perform at Tamworth. Star of the West nominated in best group category
March 1983 - Spurs bars open in Moorabbin & other places. Dead Livers perform
April 3 1983 - Pub with no beer festival Taylors Arms NSW. Marty Atchison leaves band to be replaced by Ross Nicholson
24 April 1983 - free concert Footscray Park
July 7 1983 - "Jaded Livers lose heart" (Melbourne Truth), "Dead-end for Livers" (Melbourne Sun), "Livers are finally dead" (Juke)
Sept 3 1983 - Dead Livers reform
28 Nov. 1983 - Dead Livers booked to appear at "Reefer cabaret" in St. Kilda. Schedule runs wildly out of time and at 3 am the next day the band called it quits before performing
Jan 1985 - perform at 30th birthday of former Geelong football captain Michael Turner
Jan 1985 - return to Tamworth for performances at the "Workman's Club"
1986-1988 - Band performs with Craig Reeves and Les Gough
April 1988 - 10th anniversary at Esplanade Hotel
23 Nov 1991- Daydreaming/Loretta cassingle launch Prince Patrick Hotel
December 1992 - perform for MRA Mercat Cross Hotel Near Victoria Market
16 Jan 1993 - Port Fairy
Jan 1993 - Tamworth
19 Feb 1995 - Coldstream country music festival
July 1996 - Railway Hotel North Fitzroy
July 5 1997 Bush Inn Hotel Hawksburn
Dec 13 1997 Bush Inn Hotel Hawksburn
May 16 1998 - 20th anniversary - Bush Inn Hawksburn
July 1999 - 21st anniversary - Bush Inn, Hawksburn
September 1999 - New recording project Warrnambool
July 29th 2000 - CD launch, Bush Inn Hawksburn
August 20 2000 - Regional CD launch Warrnambool
December 28 2000 - Caledonian Inn, Port Fairy
March 9-12 2001 - Port Fairy Folk Festival
March 18 2001 - Wandong Country Music Festival
January 13th 2002 - Red Hill Country Music Festival
March 9th 2002 - Stump during Port Fairy Folk Festival
April 24th 2002 - 24th anniversary Clifton Hill Hotel
June 8th 2002 - Rhapsody in June festival Port Fairy
October 5th 2002 - Bush Inn West Toorak
December 27th-28th 2002 - Boggy Creek Pub, plus Stump Port Fairy
March 2003 - Stump during Port Fairy Folk Festival
Nov. 2003 - Bush Inn
December 2003 - Stump Port Fairy
March 5-8 2004 Port Fairy Folk Festival (Fiddlers Green and Wine Bar)
March 11-14 2005 Port Fairy Folk Festival (Stump)
March 2006 - Port Fairy Folk Festival (Stump)
March 2007 - Port Fairy Folk Festival (stump)
July 2007 - Stump Port Fairy
March 2008 -- Port Fairy Folk Festival (Stump)
Feb. 26th 2012 -- Wedding after party for Hannah Moylan (nee Schack), Yarpturk, Victoria
11th Jan. 2014 -- Vic Hotel Warrnambool - incorporated reunion of school band The Dogs
11th July 2015 - AP Johnson tribute Rainbow Hotel Fitzroy
17th July 2015 -- Vic Hotel Warrnambool
12th May 2018 -- 40th anniversary celebration at The Thornbury Theatre
22nd Feb. 2020 -- Performed at Mickey Bourke's Koroit Hotel for Michael Schack's 70th birthday
27th March 2021-- Performed at Mickey Bourke's Koroit Hotel for 43rd anniversary